One feature that distinguishes the current financial crisis from earlier ones is how widely the problem is spread. We have had bigger public debt than today, but never with so much private sector debt. We have had leverage-fuelled bubbles in one or other sector, but never managed to blow such massive, simultaneous, debt-fuelled bubbles in the public, financial, other business, and household sectors: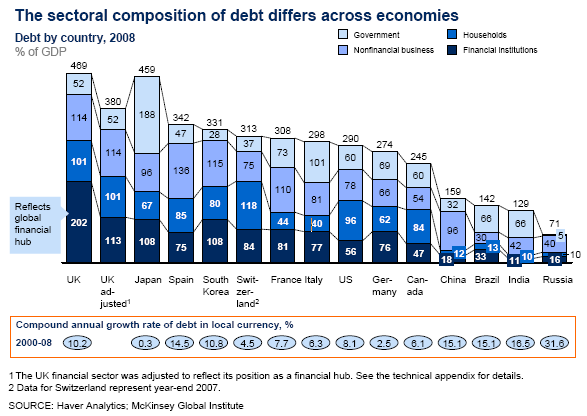 From McKinsey Debt and Deleveraging report.1
Nice to see, then, that each sector is doing its best to pull back from the brink:
Speculative-grade companies are borrowing to finance dividend payments to their private-equity owners at the fastest rate since before the credit crisis, taking advantage of investor demand for high relative yields.

Banks arranged or started marketing $8.77 billion of high-risk, high-yield loans slated for shareholder payouts this quarter, bringing 2010's total to $17.1 billion, more than five times the amount of the past two years combined, according to Standard & Poor's Leveraged Commentary and Data.

Private-equity firms, facing a jump in taxes on capital gains next year and a slumping market for initial public offerings, are saddling their companies with more debt as the U.S. economic recovery slows.
http://noir.bloomberg.com/apps/news?pid=20601087&sid=a4LpIAFTEDCk

 
The Scottish government has given the go-ahead to the first use of a method of funding that could allow local authorities across the UK to invest in infrastructure, in spite of the looming squeeze on public spending.

An £84m ($132m) development of Edinburgh's waterfront area will employ tax incremental financing (Tif), a mechanism developed in the US2 that allows local authorities to borrow against anticipated future increases in business rates to fund improvements that are expected to generate those gains.

Nick Clegg, the deputy prime minister, told last week's Liberal Democrat conference that he supported the use of Tif  across the whole of the UK.

John Swinney, Scotland's finance secretary, said the development of a new cruise liner terminal, lock gates, esplanade and link road could unlock £660m of private investment and create up to 4,900 jobs.

"Westminster cuts to the Scottish budget have emphasised the importance of finding new funding models to deliver crucial infrastructure projects such as the Edinburgh Waterfront, that can unlock further economic development, whilst ensuring maximum value for the public purse," he said.

Tif schemes are also being developed by North Lanarkshire Council to regenerate the site of the former Ravenscraig steel mill and by Glasgow to help fund the expansion of the Buchanan Street Galleries shopping complex in the centre of the city.
http://www.ft.com/cms/s/0/91d58208-cb0c-11df-bf36-00144feab49a.html

 
Britain's economy expanded at its fastest pace in nine years in the second quarter of 2010 and growth at the start of the year was slightly stronger than previously thought, but analysts predict a tough road ahead.

The robust expansion in the three months to June was bolstered by consumers using up their savings and a big rise in government spending ahead of a severe austerity drive which is likely to hamper the economic recovery.

The GDP data showed consumers are running down their savings quite severely, boding ill for continued consumer spending. The household saving ratio fell to 3.2 percent in the second quarter from 5.5 percent in the first three months of the year, its lowest since Q3 2008.

Government spending grew by 1.0 percent on the quarter, its fastest rate since Q4 2008 and construction output surged 9.5 percent during the second quarter, its fastest rate of expansion since 1963 as it caught up after winter disruption.
http://uk.reuters.com/article/idUKTRE68R19020100928

 
Do these need commentary, or do they seem as self-evidently irresponsible and incorrigible to other people as they seem to me? This isn't about getting back to a sustainable level of economic activity, but about trying to spend even more of tomorrow's money today, when we've already spent almost all of it.
-----------------
1. The figures for government debt are by now significantly worse than shown, providing continued strong net growth in debt, against a backdrop of private debt that is still growing in some countries and static or declining – more slowly than government debt is growing – in others. http://blogs.reuters.com/great-debate/2010/09/21/deleveraging-a-process-not-an-event/

2. American state borrowing is obviously a model we ought to follow. After all, how much trouble can local government get into, borrowing against projected future growth that will supposedly be delivered by public expenditure? Well, maybe just a little:

http://www.forbes.com/2010/01/20/global-debt-bomb-business-wall-street-debt-10_land.html

http://noir.bloomberg.com/apps/news?pid=newsarchive&sid=aw9Q_5AAfOHA

http://www.moneyweek.com/news-and-charts/economics/us-economics-us-state-debts-49216.aspx

http://www.npr.org/templates/story/story.php?storyId=129758427

http://noir.bloomberg.com/apps/news?pid=newsarchive&sid=akeAc9ad1D9Q